09/10/2017 UPDATE:
Congratulations to Imaginary Forces on their Outstanding Main Title Design Emmy win for Stranger Things and composers Michael Stein and Kyle Dixon for their Outstanding Original Main Title Theme Music award for the same series.
Imaginary Forces has previously received the Emmy in Outstanding Main Title Design for their work on shows Manhattan, Mad Men, and Masterpiece Theatre: The American Collection, as well as nominations for Magic City, Boardwalk Empire, Human Target, Nurse Jackie, The Pacific, and Rubicon. Stranger Things is Creative Director Michelle Dougherty's first win.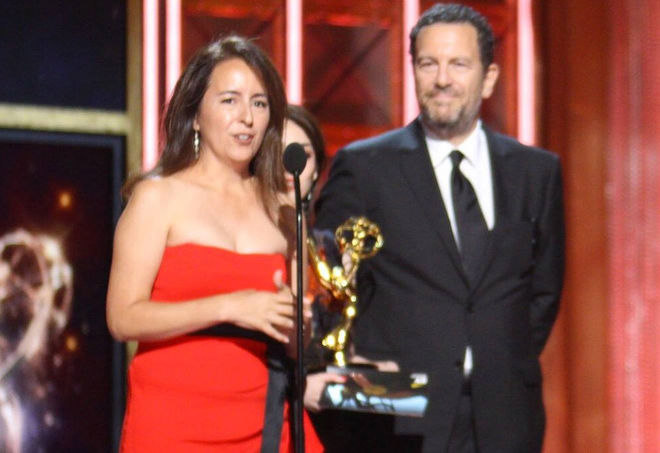 —

The 2017 Emmy nominations were announced on July 13th, including the nominees for this year's Outstanding Main Title Design award. Studio Elastic continues its four-year nomination streak, earning three nominations this year for the openings of Starz's American Gods, Netflix's The Crown, and HBO's Westworld. Elastic now matches Imaginary Forces' record for three nominations in this category in a single year, which was set in 2010. The record for the most nominations for an individual designer in a single year still belongs to title designer Billy Pittard, who earned four nominations in 1997. Elastic previously won the title design Emmy in 2016 for The Man in the High Castle and in 2014 for True Detective. The studio has been a powerhouse at the Primetime Emmys over the past decade, with three wins and nine nominations since 2011.
This is also the fourth year in which Imaginary Forces received recognition for its title sequences. The studio took home the gold trophy in 2015 for the opening title sequence to Manhattan, and was nominated previously for the titles to Netflix's Jessica Jones, HBO's Vinyl, Starz's Black Sails, and HBO's The Pacific. Prologue was previously nominated in 2012, 2013, and 2015 for their work on FX's American Horror Story anthology series and in 2013 for the opening of CBS's Elementary.
This is the eighth Emmy nomination for Patrick Clair, Creative Director at Elastic, and the seventh for Michelle Dougherty, Creative Director at Imaginary Forces.
Netflix, which made inroads into the category in 2015, saw two of its series honoured with Emmy nominations this year. Notably absent from the nominations this year is Amazon, which took home the prize last year thanks to Elastic's main titles for The Man in the High Castle. As predicted in 2015, cable networks no longer dominate this category and we expect to see streaming services continue to make headway in the years to come.
Title sequences that were grievously overlooked this year were those for Anne with an E (also known simply as Anne) designed by Imaginary Forces and featuring the gorgeous painted works of artist Brad Kunkle, Hamilton's Pharmacopeia, a fantastical hand-animated journey through the history of drugs created at VICE, and Lisa Bolan and Prologue's crystalline opener for Queen Sugar.
In related categories, two of the nominated title sequences – FEUD and Stranger Things – also received nods in the Outstanding Original Main Title Theme Music category.
If this year's Outstanding Main Title Design nods indicate anything, it's that these studios are showing no signs of slowing down.
Watch all of the nominated sequences below – and then let us know your favourites!
—
AMERICAN GODS
Starz
Studio: Elastic
Creative Director: Patrick Clair

Told through the point of view of an ex-con named Shadow Moon, Starz's new series American Gods tells the story of a battle brewing between the new gods and the old. Developed by producer and screenwriter Bryan Fuller (Dead Like Me, Hannibal) and writer Michael Green (Heroes, Logan), the series translates Neil Gaiman's fantasy novel of the same name into a psychedelic spectacle of deities and devils.
The opening title sequence sets up the show's polychromatic and surreal world through iconography both modern and ancient, dousing classical artefacts, religious symbols, and modern technology in fuchsia and azure, chartreuse and crimson. The mood, musical theme, and pacing of the opening sequence is more than a little reminiscent of the titles for The Girl with the Dragon Tattoo, directed by Tim Miller. The theme music by Brian Reitzell for American Gods seems to echo Trent Reznor and Atticus Ross's take on Led Zeppelin's "Immigrant Song". Even the vocals bear a resemblance to Karen O's discordant howl. Still, the sequence is a stunning vision and a powerful herald for an ambitious series as well as a prime monument to the current era of title design.
THE CROWN
Netflix
Studio: Elastic
Creative Director: Patrick Clair

Elastic once again calls upon its skilled CG liquids team led by Creative Director Patrick Clair and Lead Animator Raoul Marks (both of whom also worked on the titles for True Detective, Westworld, and The Night Manager) to conjure a sombre but luxurious opening to adorn Netflix's most expensive drama series to date.
With a main title sequence fit for a queen, the show begins on an extravagant note, featuring molten gold worming itself into shape among glints of metal and rough, shadowy edges. The aesthetic is in line with the studio's previous efforts featuring liquid, chief among them the titles to Daredevil and Westworld. It also recalls the title sequence to feature film The Huntsman: Winter's War designed by Manija Emran and featuring ice sculptures, Prologue's opening to short-lived ABC series Of Kings and Prophets, with a dash of honeyed filigree as in Fernando Domínguez Cózar's title design for 2011 film EVA.
FEUD: BETTE AND JOAN
FX Networks
Studio: Prologue
Creative Director: Ryan Murphy

After numerous Emmy-nominated collaborations on the American Horror Story series, television producer Ryan Murphy and title designer Kyle Cooper of studio Prologue reteam for Murphy's latest anthology series: FEUD: Bette And Joan – a dramatization of the events surrounding the production of the 1962 film What Ever Happened to Baby Jane? and the infamous behind-the-scenes rivalry of stars Bette Davis and Joan Crawford. Set in the 1960s, FEUD's highly stylized animated opener takes cues from the era in which it is set, in particular the title design of Saul Bass and the work of director Alfred Hitchcock. The sequence, which also owes a stylistic debt to Kuntzel + Deygas's handmade opening to Steven Spielberg's Catch Me If You Can, features direct references to Baby Jane and several Hitchcock thrillers – most notably Rear Window and Vertigo. With multiple acts of attempted murder and mayhem, the sequence's sinister undercurrents make it clear to viewers that the enmity between Davis and Crawford is far more than just professional or personal jealousy, it's a true life or death struggle for these two Hollywood legends.
STRANGER THINGS
Netflix
Studio: Imaginary Forces
Creative Director: Michelle Dougherty

Netflix's Stranger Things is a series loaded with subtle nods and not-so-subtle homages to some of the most beloved films of the 1980s. Showrunners Matt and Ross Duffer deliver a shot of pure nostalgia, a dose of something both familiar to viewers and altogether distinct. Similarly, the show's main titles function as a tribute to some of the era's most iconic book covers and title sequences, a pastiche of first impressions. Paired with a synthy title track straight out of a Carpenter flick, the Stranger Things sequence echoes the openings of genre classics like Altered States and The Dead Zone both in form and tone. Large, hollow type drifts through a void, slowly assembling, its glowing red edges cutting through the darkness as smaller credits fade in and out. The primary typeface is Benguiat, chosen for its associations with Stephen King paperbacks, the Choose Your Own Adventure series, and other dusty, musty touchstones.
The Stranger Things opening is not only a fitting successor to a revered title design tradition, but a testament to the power of type in motion and the enormous potency of nostalgia.
Read our in-depth discussion with Creative Director Michelle Dougherty of Imaginary Forces.
WESTWORLD
HBO
Studio: Elastic
Creative Director: Patrick Clair

Day breaks over an unfamiliar landscape. That's not the sun and this is not the natural splendour of the American West. It's the ribcage of a horse — not bred but built as an amusement park plaything. Robotic tools dance with precision, stringing piano wire and sinew alike, connecting key with hammer, muscle with bone. A pale rider takes to the saddle, half-formed and half-cocked, a six-shooter in her grasp.
Based on Michael Crichton's 1973 science fiction thriller of the same name, HBO's high-concept reimagining of Westworld is expansive, encompassing both the ersatz Wild West populated by cybernetic cowbots and the glossy sci-fi near-future inhabited by the park's custodians and creators. In the mix are the Westworld's guests who live out their wildest and most depraved fantasies in the highly interactive park. Elastic's main titles announce this ambitious vision, evoking the work of Leonardo Da Vinci, Mamoru Oshii, and Chris Cunningham, all while hinting at the broader ethical and existential themes. Enjoy your stay in Westworld. Nothing can possibly go wrong…
Read our in-depth discussion with Creative Director Patrick Clair of Elastic.
—

Check back on September 10th to find out which sequences take home a prize at the 69th Creative Arts Emmy Awards. And in the meantime, be sure to read our Top 10 Title Sequences of 2016 feature to see more of the best title design work of the last year.
AMERICAN GODS
Studio: Elastic
Director: Patrick Clair
Lead Compositor and Animator: Raoul Marks
Composite and Animation: Yongsub Song, Sam Sparks
Editor: Devin Mauer
Designers: Jeff Han, Felix Soletic
Storyboard Artist: Lance Slaton
Producer: Paul Makowski
Sound Design: Echolab
Head of Production: Carol Salek
Executive Producer: Jennifer Sofio Hall
Managing Director: Linda Carlson
Music: Brian Rietzell
—
THE CROWN
Studio: Elastic
Creative Director: Patrick Clair
Lead Animation and Compositing: Raoul Marks
3D Look Development: Javier León Carrillo
Designers: Paul Kim, Jeff Han, Felix Soletic, Maxx Burman
Head of 3D: Kirk Shintani
3D Artists: Joe Paniagua, Ian Ruhfass
2D Animator: Tony Kandalaft
Associate Producer: Danny Hirsch
Head of Production: Kim Christensen
Managing Director: Jennifer Sofio Hall

Music: Hans Zimmer, Rupert Gregson-Williams

—
FEUD: BETTE AND JOAN
Studio: Prologue
Creative Director: Ryan Murphy
Creative Producer: Alexis Martin Woodall
Director: Kyle Cooper
Designer: Nadia Tzuo
Animator: Margherita Premuroso
Editor: Rachel Fowler
Producer: Kate Berry

Music: Mac Quayle

—
STRANGER THINGS
Studio: Imaginary Forces
Executive Creative Director: Peter Frankfurt
Creative Director: Michelle Dougherty
Executive Producer: Ben Apley
Head of Production: Tina Starkweather
Producer: Dunja Vitolic
Designers: Arisu Kashiwagi, My Tran, Eric Demeusy
Lead Animator: Eric Demeusy
Compositor: Eric Demeusy
Flame Artist: Eric Mason
Music: Kyle Dixon, Michael Stein
—
WESTWORLD
Studio: Elastic
Director: Patrick Clair
Lead Animator/Compositor: Raoul Marks
Design & Visual Research: Paul Kim, Jeff Han, Felix Soletic, Maxx Burman, Henry DeLeon, Dan Alexandru
Storyboard Artist: Lance Slaton
Lighter: Shamus Johnson
Animator/Compositor: Yongsub Song
Head of CG: Kirk Shintani
3D Artists: Jose Limon Jessica Hurst, Dustin Mellum, Rie Ito, Joe Paniagua
3D Rigging: Josh Dyer
Producer: Ben Foster
Supervising Producer: Carol Salek
Head of Production: Kim Christensen
Managing Partner: Jennifer Sofio Hall
Music: Ramin Djawadi