In Grease, the film's recent past is a three-and-a-half minute prologue. Like Happy Days, it's the 1950s filtered through a 1970s aesthetic. Lumpy and loose, it feels like low-budget animation, as though deliberately unpolished — think Schoolhouse Rock!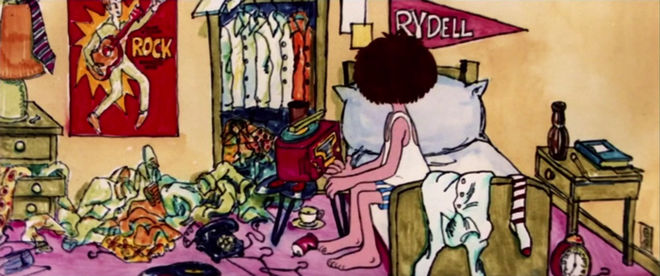 The opening title sequence animation was created by British-born John Wilson and his studio Fine Arts Films. The look of the opening reflects the limited animation style many commercial studios were producing in the 1970s, Seneca College animation history instructor Jim Zub explains, with 6 to 12 drawings per second (which was called "shooting on twos" or "shooting on fours") and simple character designs to speed up production. "The shaky lines and broad caricatures reflect the kind of art a talented high school student would produce for their yearbook, channeling the high school musical's demographic quite well," Zub says. "The look is relatively simple in terms of style and lacks the elegant figure work or delicate self-trace lines you'd see in Disney feature animation, but Wilson makes up for it with charm and energy that fits the film to a tee."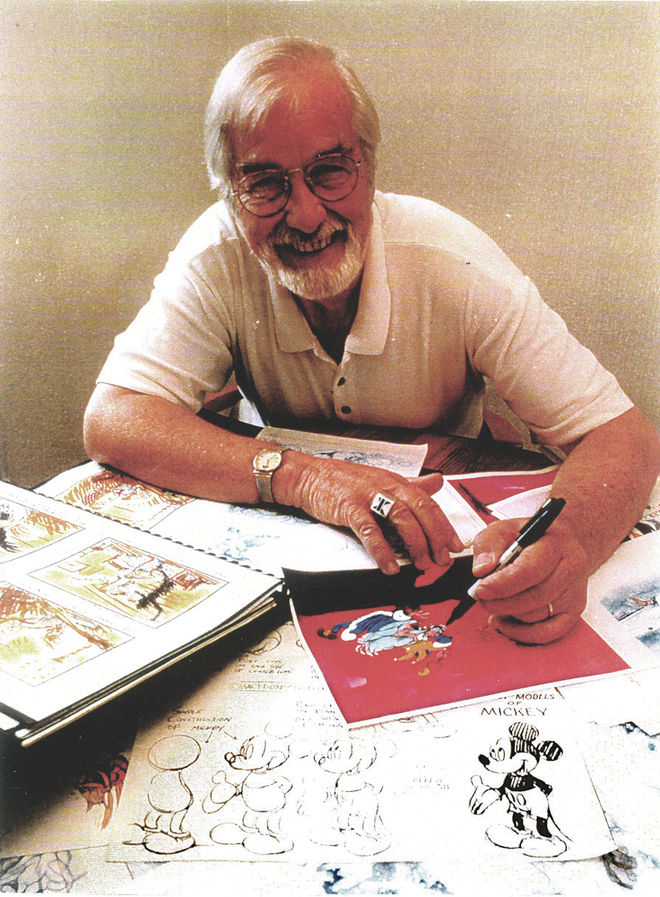 It's worth a second (and third) look because it's rich in visual clues and social history details that situate the action of the film in its cultural time. It's essentially an animated time capsule of the era's touchstones, with a few tongue-in-cheek easter eggs of the intervening years between the film's 1959 setting and its 1977 shoot. These are so numerous and fly past so quickly that they might as well be subliminal but they set the tone and set up the narrative.
It begins as a throbbing Victrola-style turntable radio pops to life and a hand reaches to turn up the dial. We hear the deejay's voice and the opening strains of the song. "It's the main brain Vince Fontaine beginning your day with the only way: music, music, music. Get out of bed, it's the first day of school." Vince Fontaine is actor Edd Byrnes who, in the real-life timeline of the late 1950s was the hot young breakout star of the TV show 77 Sunset Strip and the charting duet "Kookie, Kookie, Lend Me Your Comb," recorded with Connie Stevens. The song is a rhyming, slang-filled song about a greaser who's vain about his pompadour hair (much as Byrnes' Sunset Strip character was), so casting Byrnes as Grease's Dick Clark-type radio deejay and aging hipster host of fictional teen dance show "National Bandstand" is just the kind of insider wink Grease loves.
In his radio patter Fontaine/Byrnes introduces the titular theme song as "a new old favourite." And it is: the new song has a smooth groove and lyric written expressly for the film version (and for a purported $3 million fee) by Bee Gee Barry Gibb at producer Robert Stigwood's request. It's sung by old-school doo-wop icon Frankie Valli in his distinctive crooning vocal style but with Peter Frampton on the funky guitar. That makes "Grease" the ultimate disco hybrid.
The animated prologue also restores something of the original tone. Before it moved to Broadway and the subject matter and prickly nuanced characters were diluted to be more crowd-pleasing, the original 1971 Chicago musical Grease was a dark story. The movie still peppers some casual roofie and rueful teen pregnancy jokes, but the musical was as much about social issues like bullying and peer pressure as it was about rock 'n' roll-loving working class rebellion and finding romance.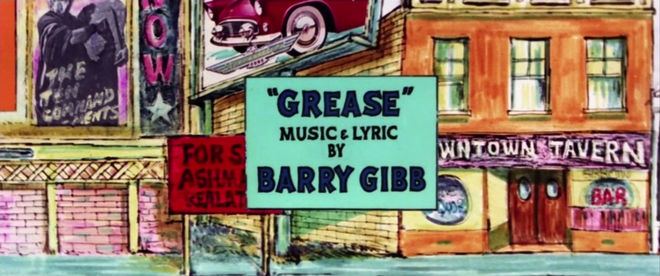 As "Grease" plays on the radio, the opening titles lead the audience through a series of bedrooms that introduce characters as they get ready for school.
The first visit is to Danny (John Travolta) and his radio, in his bedroom with the typical teenage-boy detritus of dirty clothes strewn everywhere, along with an Elvis poster, and a pointedly unopened book. Notice the hot pink shirt hanging in his closet, because it's what he'll wear to hand-jive at the school dance later in the movie. Danny squeezes out a dollop of goop to tame his bedhead and it melts into a series of droplets that, over a few frames, shapes itself into the film and musical's ubiquitous (and trademarked) puffy script title and logo in the outline of a vintage car.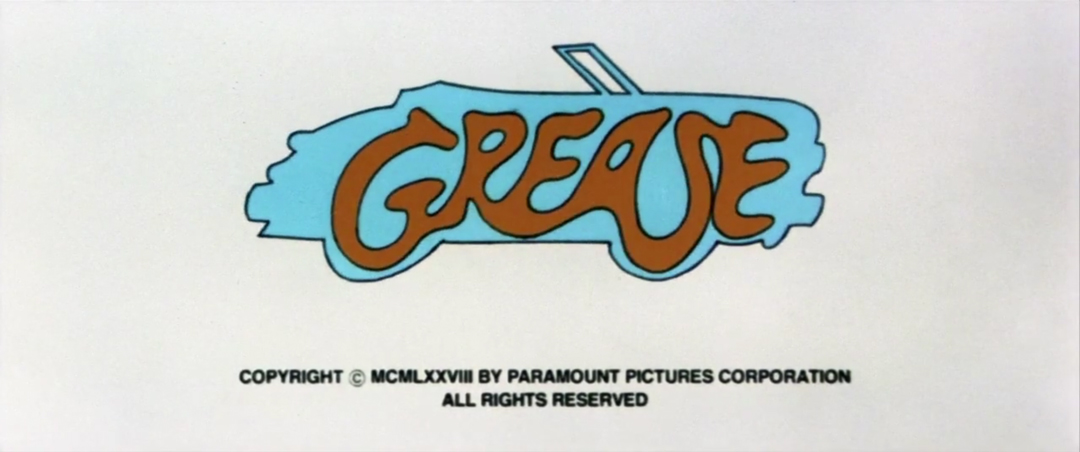 That car and title lettering became the most recognizable and enduring part of Grease's shorthand visual identity. The credit titles appear after plumes of smoke on billboards and signs, all in a varsity-style capitalized lettering created by Wilson, and the signature elongated capital serifs of his capital Ts are also used on the "T" Birds jackets in the costumes of the movie itself.
And in between, the cultural time capsule. A telephone booth piled high with people, in the manner of the fad challenges of the day, the hula hoop, saddle shoes, Davy Crockett hats, a juvenile delinquent biker straight out of The Wild One.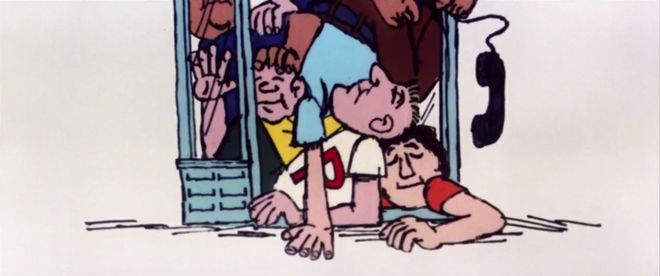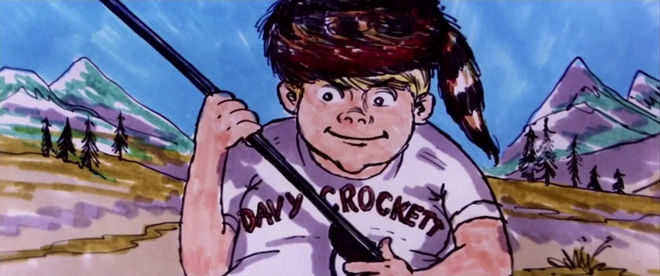 Next up: a flock of bluebirds flitter into the tidy, more formal floral bedroom where Sandy (Olivia Newton-John) sleeps. The birds fly her robe over and dress her. A straw broom leans on the fireplace mantel, and a deer canters in with a rabbit, expliciting recalling Cinderella and Bambi. This has little to do with the movie itself, although they're nods to both the inherent goody-two-shoes sweetness and naïveté of Sandy's character (she's as morally old-fashioned as the Victorian wash basin and pitcher on her windowsill) as to Walt Disney Studios. Her dressing gown, notably, is the virginal Madonna blue typical of Disney heroines, and it's at Disney that Wilson was mentored by Snow White and Bambi director David Hand and once worked as an animator on such films as Peter Pan and Lady and the Tramp. (More on which, later.)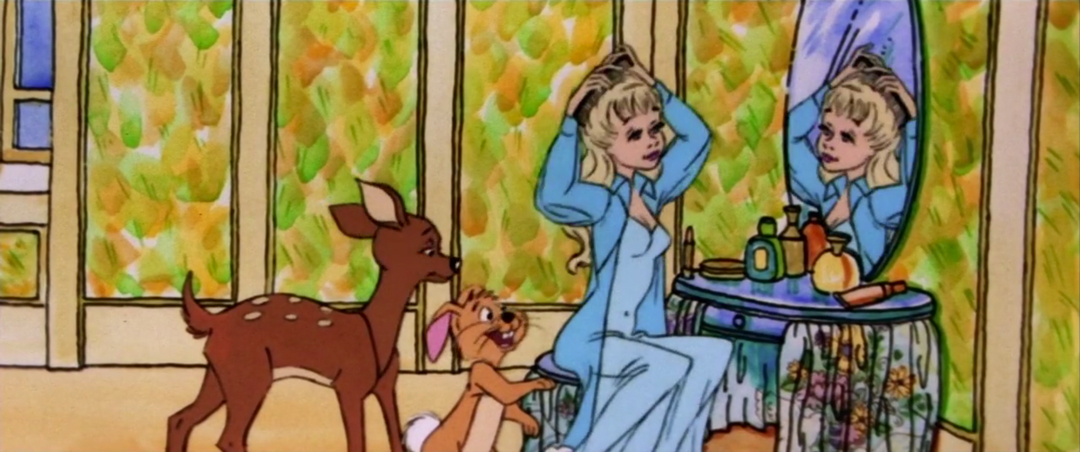 The prologue's next connective materials include a coffee house and an "I Like Ike" button that spins across the frame before Groucho Marx appears in a visual pun of his Why a Duck? joke, followed by a Shriner, the cover of a 1952 Voodoo comic book, Marilyn Monroe's sidewalk grate shot from The Seven Year Itch, and the cover of Jules Feiffer's collected "Sick Sick Sick" collection of Village Voice comic strips satirizing Eisenhower-era conformity.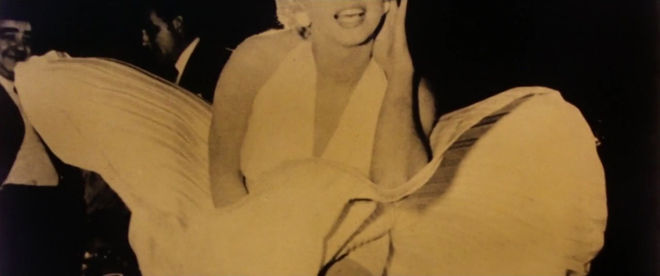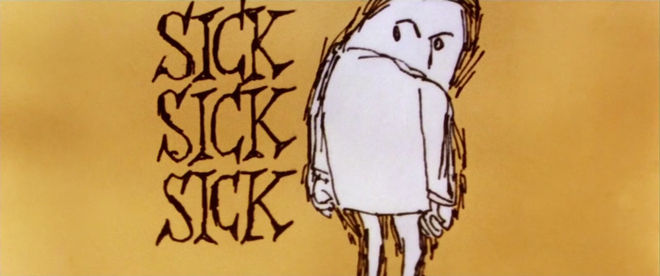 It's after this who's who of rebellious zeitgeist that Rizzo (Stockard Channing) is introduced, wriggling her way into a clingy pink turtleneck. But she changes out of it, rethinking the era's regressive sweater-girl pinup expectations, going for a more tomboy, no-nonsense button-down shirt instead; the Pink Ladies pink slip hangs on the wall next to a Rydell pennant and a poster of James Dean; there is lingerie strewn on her purloined Stop sign and mid-century modern Hardoy butterfly chair and that, with the decorated brassière she's wearing, supply another hint about her more sexually confident and cynical character.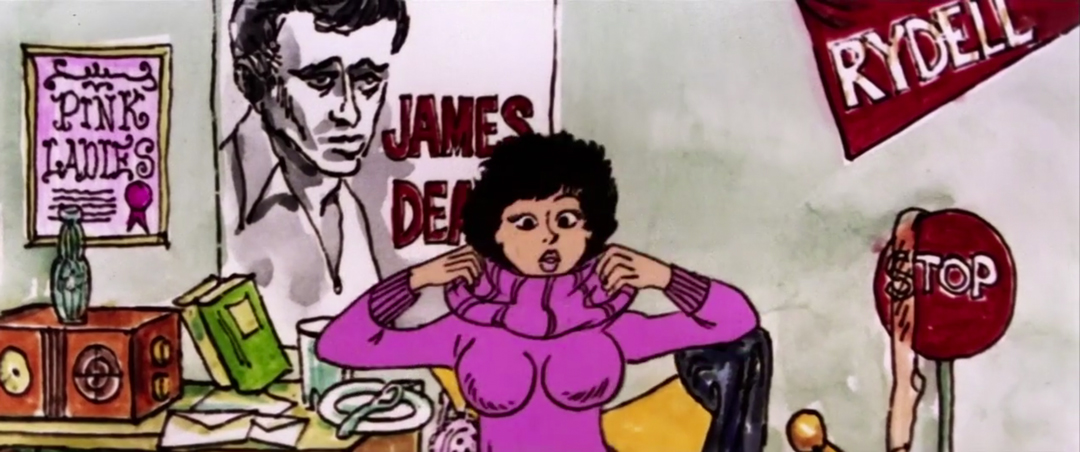 Between Rizzo and Kenickie (Jeff Conaway), there are glimpses of The Honeymooners (this foreshadows the nature of their bickering but affectionate relationship) and Lucille Ball armed with seltzer bottle and cream pie...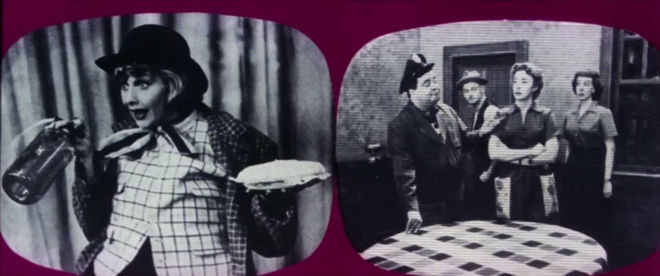 ...the cover of an early issue of Mad, Stalin, General MacArthur...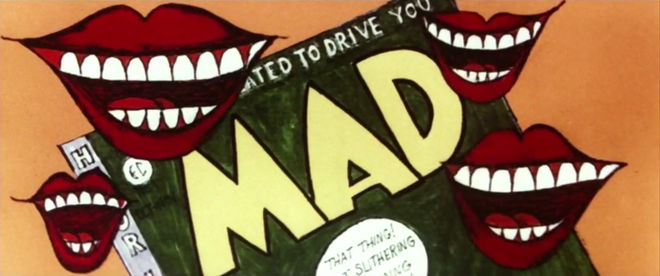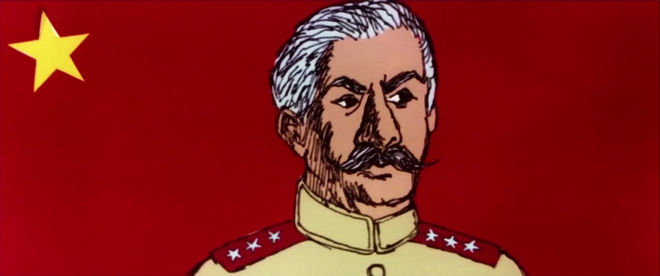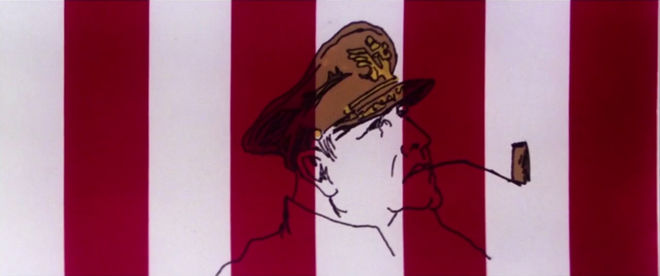 ...a speechifying Martin Luther King, the debut 1953 cover of Playboy (another element of the sexual revolution and changing times) and a Ford Thunderbird plaque.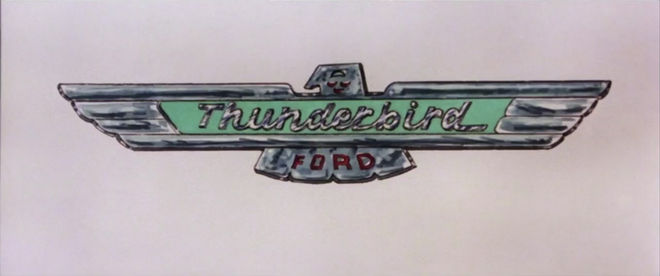 Enter the three acolyte T-Birds, introduced dressed alike and snapping their fingers in unison like a boy band in a garage, surrounded by dented cans of motor oil, tires and car parts. They're tinkering on an anthropomorphic cartoon version of the red fantasy Ford De Luxe hotrod from the movie's "Grease Lightning" number and it comes alive to swallow the guy working under its hood: their leader Kenickie.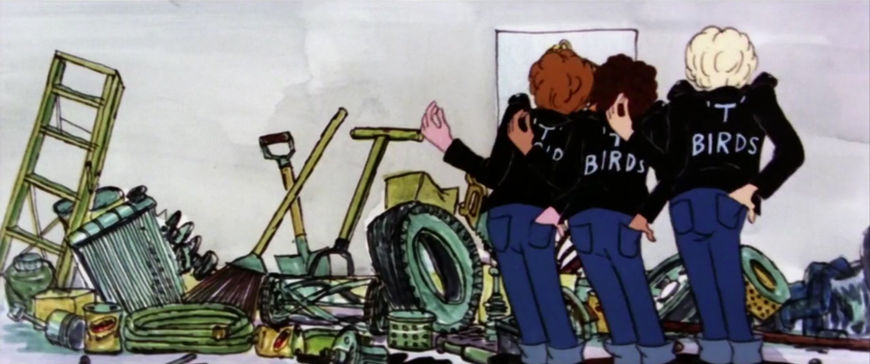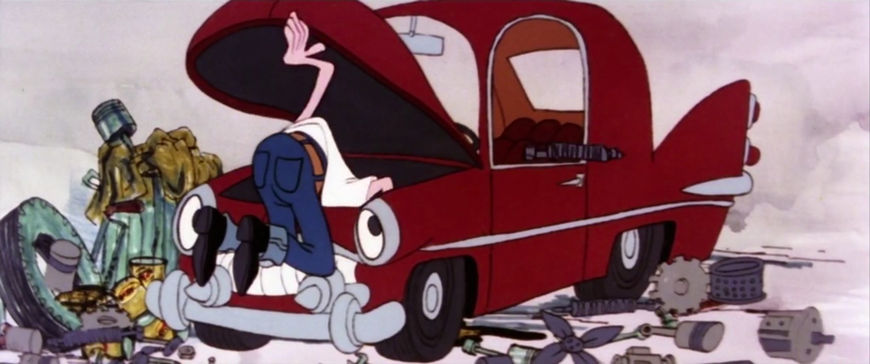 After these four intros the animation shifts to the town and detailed streetscape, with the T-Birds revving their car on the strip and in danger of being overtaken in a race by the Pink Ladies in their Studebaker (feminist anxiety much?). What passes by is full of allusions and inside jokes, from the billboard of Roger Corman's 1958 B-movie She Gods of Shark Reef to a coffee shop named for the West Hollywood counterculture hangout Barney's Beanery. Both the Frosty Palace (the diner of the movie) and a circular drive-in diner channel the all-American 1950s nostalgia distilled by Francis Ford Coppola's American Graffiti just a few years before, and being served up at the time on hit series Happy Days.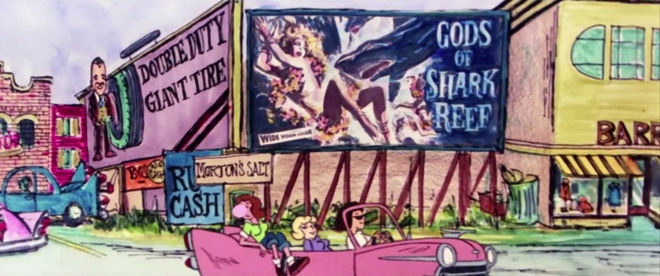 Also at the time of the film, there was much hand-wringing about television's popularity posing a threat to old-school cinema, so the cars whizz past a derelict movie palace presumably shuttered around the time it showed the film in its peeling poster – the studio epic The Ten Commandments. A "For Sale: Ashman Realator" [sic] sign nods to Howard Ashman, playwright of the Little Shop of Horrors stage show, but it's also a signpost of the death of old studio-system Hollywood.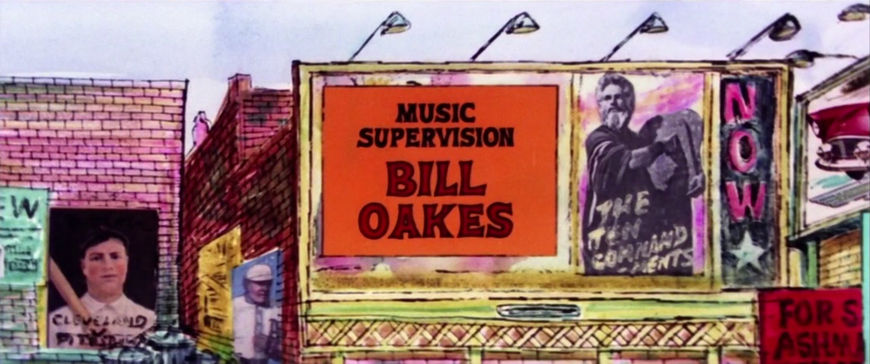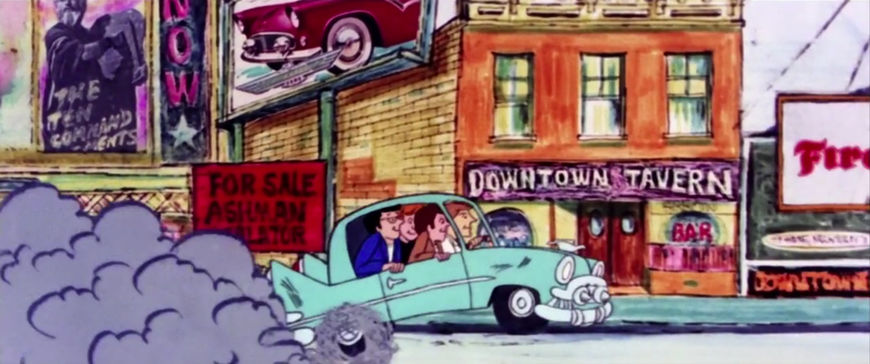 There are more ads, shops and main street sights including Firestone, Pepsi and Reese's peanut butter posters. The front marquee of a Loew's Paradise Theatre announces America's sweetheart Debbie Reynolds in a Tammy film – exactly the sort of romantic comedies considered quaintly square throwbacks by teens of the late '70s. It's swiftly followed by a more densely referential streetscape where references include Alice's Restaurant, presumably named for Arlo Guthrie's signature Vietnam protest song of 1967.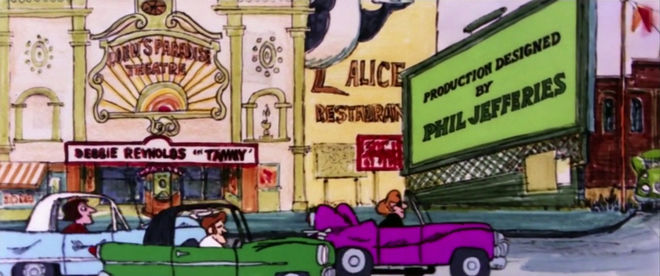 It's revealed that in their race to supremacy both cars are speeding and have been pursued by a determined motorcycle highway patrol cop (CHiPs was a popular television series that year, no surprise). Sirens sound, and the cars pull up in front of the manicured lawn and Art Deco architecture of a school building. The sequence dissolves from animation to the live action of teens milling into the school and the stone façade of Venice High School that served as the exterior of Rydell High, and the movie begins with the morning bell. Wilson's 1950s refresher and cheat sheet for Grease is complete, although to catch all the references requires several viewings and homework.
Later, the end sequence by title designer Wayne Fitzgerald features the pages of the Rydell High yearbook. It consists of film stills and poses, each signed with dedications from the students. Having seen the film, with close viewing the audience can recognize each as being written very much in the personality of each character.
ABOUT JOHN WILSON
British animator and artist John Wilson died in 2013 at the age of 93. The Royal College of Art graduate worked as a commercial artist before being stationed in Africa with the London Rifle Brigade during the Second World War. According to son Andrew Wilson, his father drew cartoons while recuperating from WWII wounds in hospital and then worked in the art department at Pinewood Studios before moving to the United States in 1950.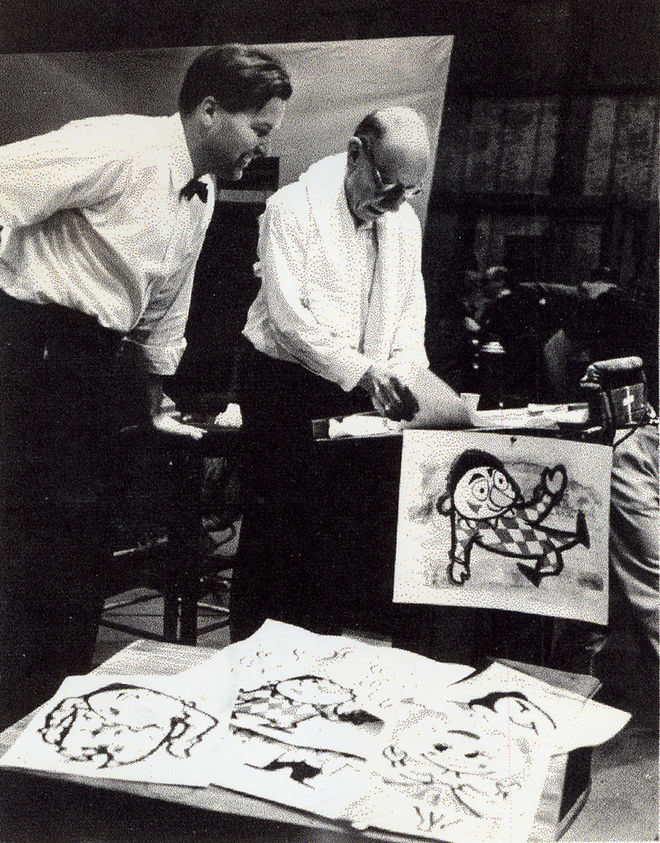 In addition to working early on in the animation department at Walt Disney Studios, he founded his own Fine Art Films animation studio in 1955 and later had stints at Hanna Barbera (on The Flintstones and Mr. Magoo). He would return to the classic Disney animation style with his 1982 television short Stanley, the Ugly Duckling.
Wilson's earliest short film Tara, The Stonecutter demonstrated his stylistic versatility and screened in cinemas as the intro to Academy Award-winning foreign film Gate of Hell. Wilson also created the trailer for Billy Wilder's Irma La Douce that defined its illicit Paris milieu, and the familiar opening titles of The Carol Burnett Show as well as the titles and musical interstitials for The Sonny & Cher Comedy Hour. There, his animated narrative concepts for hits like Jim Croce's "Bad, Bad Leroy Brown" and Joni Mitchell's "Big Yellow Taxi" and their covers of songs like Randy Newman's "Love Story" effectively make them the first animated music videos. (Wilson would later be on MTV with the 1992 animated series The Specialists) All this, he did while working on directing his own 1971 animated feature film Shinbone Alley, based on Mel Brooks' musical adaptation of Don Marquis's Archy and Mehitabel stories.
And much in the same way that Wilson's animated Grease logo became the film's internationally recognized visual identity, his portrait caricatures for Sonny and Cher became their logo and were emblazoned on everything from scripts to memos, tickets, even the bulbs on the set of their show.
For more information on John Wilson and his work head to Fine Arts Films.
Main Title Designer and Animator: John Wilson
Studio: Fine Arts Films
Story and Layout: Chris Jenkyns

End Title Design: Wayne Fitzgerald
Music: "Grease" music and lyrics written by Barry Gibb, performed by Frankie Valli; instrumental version feat. Gary Brown on saxophone (produced by Albhy Galuten, Barry Gibb and Karl Richardson)